We are delighted to announce three exciting new products in our showrooms this Summer.
The Oak Stoves Serenita Grand Gas Stove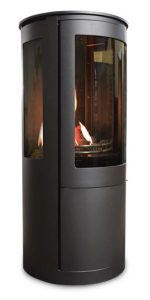 Oak Stoves is based in Bridgend, West Glamorgan, where their manufacturing facilities are based. As such, all Oak Stoves' fires are British designed and made.
The Serenita is a range of fully round-bodied gas stove available in Grand, Pedestal, and Compact options. Its contemporary style and bold, clean lines make it stand out as a stunning centrepiece, together with a large 57cm (22.5") curved panoramic front glass and two side glasses which offer the optimal view experience of your fire.
The fuel bed comprises realistic ceramic logs which warm to radiate a soft, amber glow, as the flames dance around them. Beneath the stove, there is ample storage for your cleaning and maintenance products by way of the door at the base.
Besides its looks, the Serenita is a highly practical stove to have in your home. At up to 83% efficiency, you can be sure you are getting your money's worth when it comes to using it, and at 5.5kW output, your room will be toasty and warm in no time.
It also has the Eco-Flame mode to reduce running costs still further and with a two-year warranty, you can rest easy, should something go awry during that time. Furthermore, as the Serenita is remote-controlled, you have the power to control it at the touch of your fingertips.
Also available as an electric stove.
Gazco Vogue Midi T Gas Stoves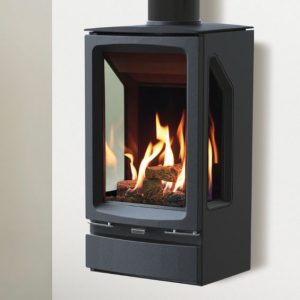 The versatile Gazco Vogue Midi T gas stove range provides stunning flames and a high-efficiency heat output of up to 84%.
Taking the elegant style of the smaller Midi range, the Midi T's bevelled cast iron exterior encases a taller firebox than its Midi cousin, offering a three-sided view of the impressive visuals.
Vogue Midi T stoves feature a realistic log-effect fuel bed which is reflected on multiple sides by Gazco's own EchoFlame Black Glass interior. Each ceramic log is positioned to create varied and natural flames, creating a highly realistic effect.
This contemporary gas stove is also available in Midline or Highline version, which feature stylish base that can be filled with logs to add to the wood fire aesthetic. In addition, the Midi T balanced flue is also available as a wall-mounted model.
The Vogue Midi T range is available in both conventional and balanced flue options. The standard manual model may be upgraded to facilitate the use of a programmable thermostatic remote control for the convenience of control at the touch of a button.
Gazco Skope Electric Fire & Focus Fireplaces Surrounds
Focus Fireplaces' exciting new range of electric fireplaces, designed to feature the Gazco Skope electric fire, is here and on display in each of our showrooms.
The Skope is an innovative range of electric standalone and inset fires, combining undulating flame visuals and a choice of a deep bed of realistic logs or shimmering crystals. Skope fires use the very latest in LED technology by way of Gazco's Chromalight triple lighting system to create mesmerising visuals, including a choice of three different flame effects, rippling ambient lighting from above bathing the fuel bed and bringing it to life, and powerful up-lighting from below the fuel bed.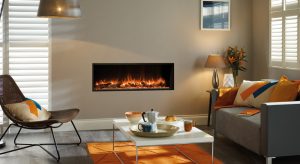 All these combine, together with a choice of thirteen lighting colours, to create the unique ambience you are looking for.
Available in both Skope Outset and Inset models and with a vast number of combinations of settings to choose from, there is sure to be the right one for you. Take the Inset, for example, available in four different widths, from the 900mm 85R for a small, boutique feature, to the 2000mm 195R for a grander statement. A frameless design, the inset's edge merges seamlessly with your wall space creating a window from which its ambience flows.
Designed to offer a multi-sided view of the scintillating flame and lighting effects, the Skope Outset can be installed as a three-sided or two-sided display. Thanks to their versatile design, the Outset is perfect for a bespoke installation to suit your interior and can be finished in various material from wood to tiles to suit your tastes. The can also be set into one of Focus Fireplace's exclusive surround to turn it into a standalone or wall-hung piece.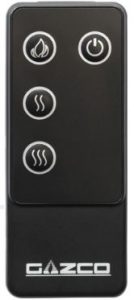 The Skope also comes with its advanced thermostatic handset gives you full control over the fire's host of features. Flames, fuel be lighting, and ambient heating can all be controlled independently to create the desired atmosphere, with or without heat. Its innovative energy saving features let you 'set and forget' the Skope to intelligently manage your home's heating requirements, minimising energy use, and allowing you to enjoy the ambience.
Program your Skope once for weekly and daily heating and lighting routines, and it will take care of the rest. You can even set it to gradually warm your room 45 minutes prior to its schedule, so when you arrive home, it's just the temperature you want.
Focus Fireplaces
And now Focus Fireplaces has made a range of fireplaces exclusively for the Skope range. Finished in a choice of a variety of real wood, including light oak, aged oak, and walnut and veneers, including white, oak grey wash, grey pearl, and midnight, matching the surround to your décor should be a breeze. Choose from shelves, with room for log storage below, solid bases, and hang-on-wall options for the base and a shelf or chimney for the top. There is something to suit every living room.
Please feel free to contact us or visit one of our showrooms today to view them in action. Our friendly and experienced staff will be more than happy to answer any questions you have.