Pictured here in Aegean Limestone with the black Provident cast iron back panel, Omega inset gas fire and paired perfectly with the black Provident fire frame on a 54" x 15" boxed and lipped, honed granite hearth.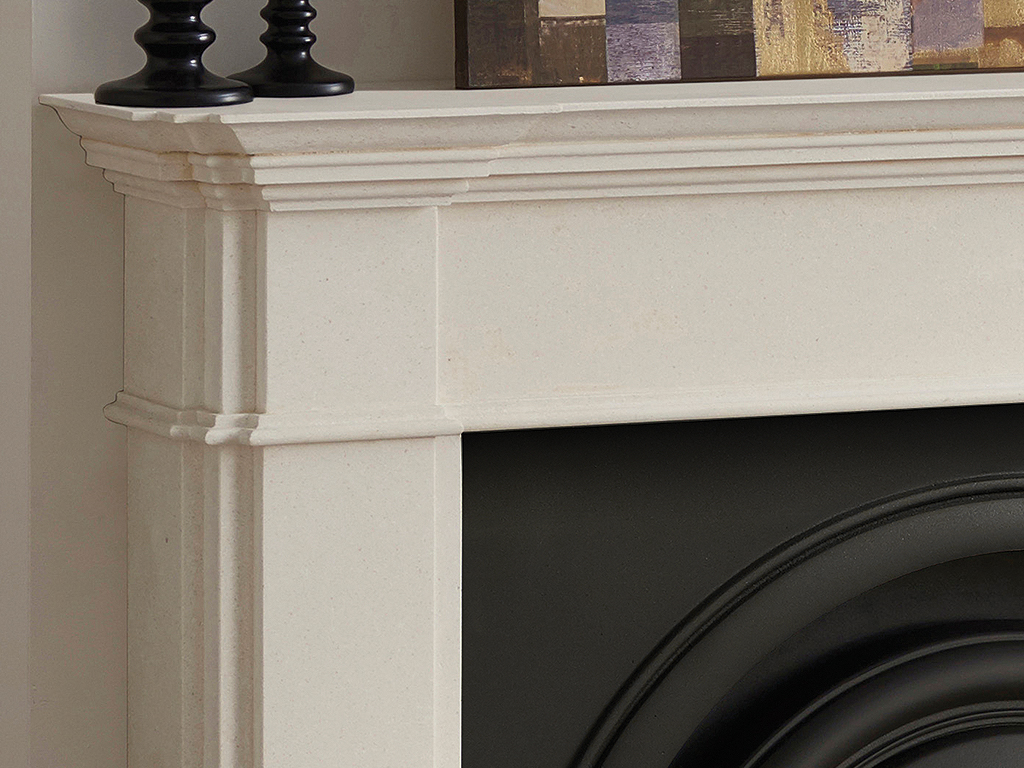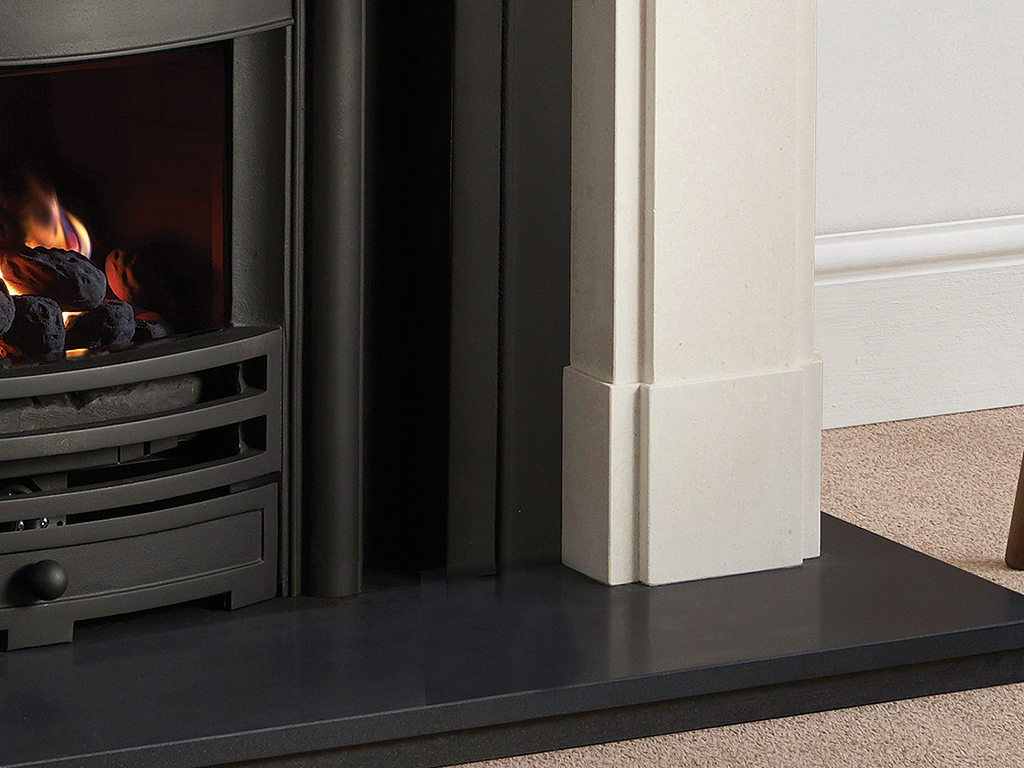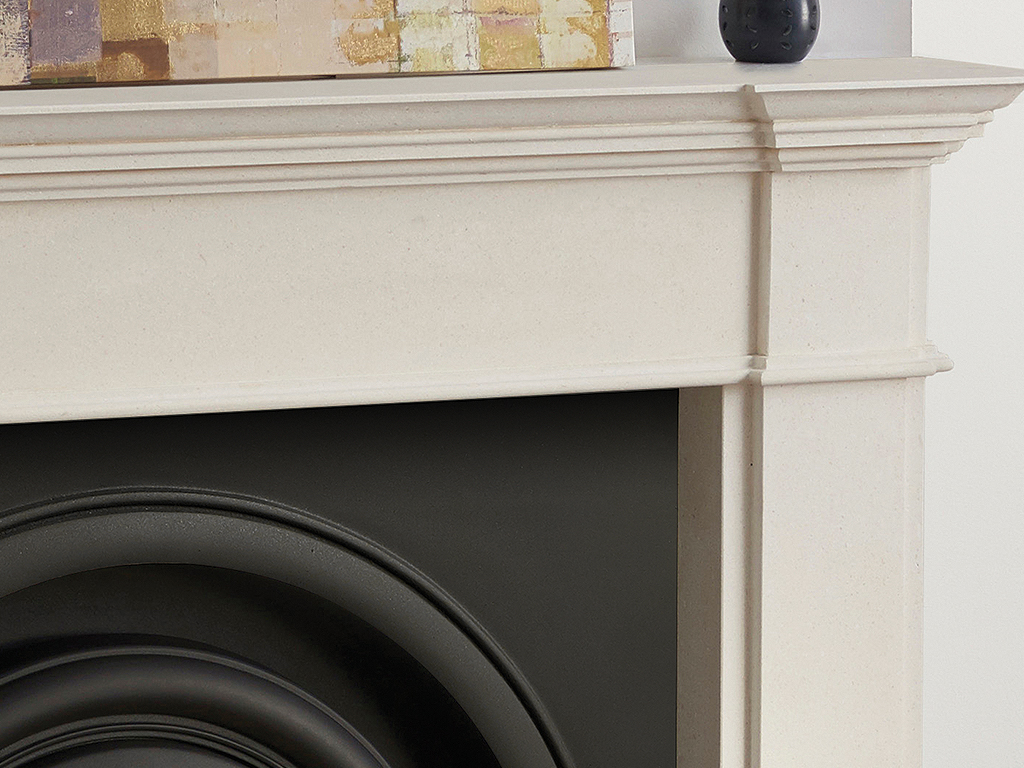 A beautifully strong mantel, elegantly crafted to flaunt simple, ultraclean lines, the Balhamfireplace mantel is capable of completing the look of any modern or
traditional fireplace.
Balham fireplace mantel dimensions: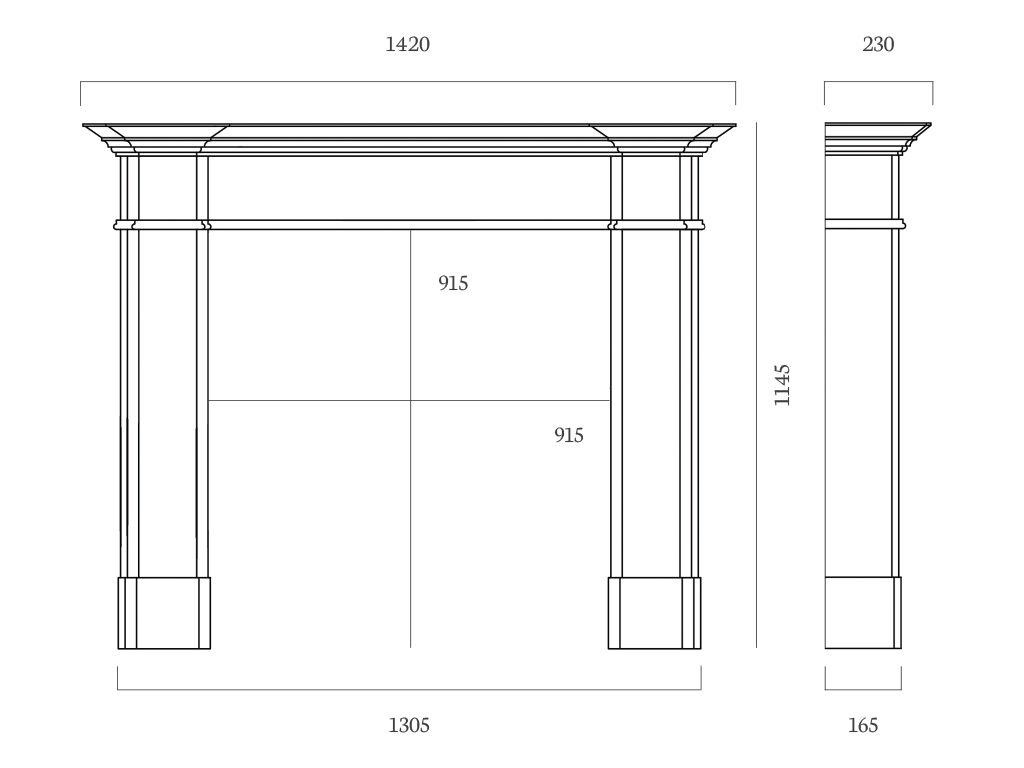 Capital Fireplaces production and fabrication facilities are strategically positioned to use both the most advanced manufacturing technology available and the highest quality skills. Established long-term relations with quarries and foundries with highly experienced fabricators and stonemasons, provide the backbone for the rigorous quality and manufacturing standards Capital Fireplaces achieve with their collection.
Capital  Fireplaces strive to offer their customers a great deal of flexibility in terms of the size of their chosen fireplace design. That's why they have implemented a 'Made to Measure' service for a variety of mantels in the following materials; Corinthian Stone, Aegean Limestone, Portuguese Limestone, and Timber.
No matter how small or large your chimney breast, whether you'd like to change the overall size of your fireplace, make the shelf wider, or reduce the rebate size, Zigi's can deliver a completely tailored service.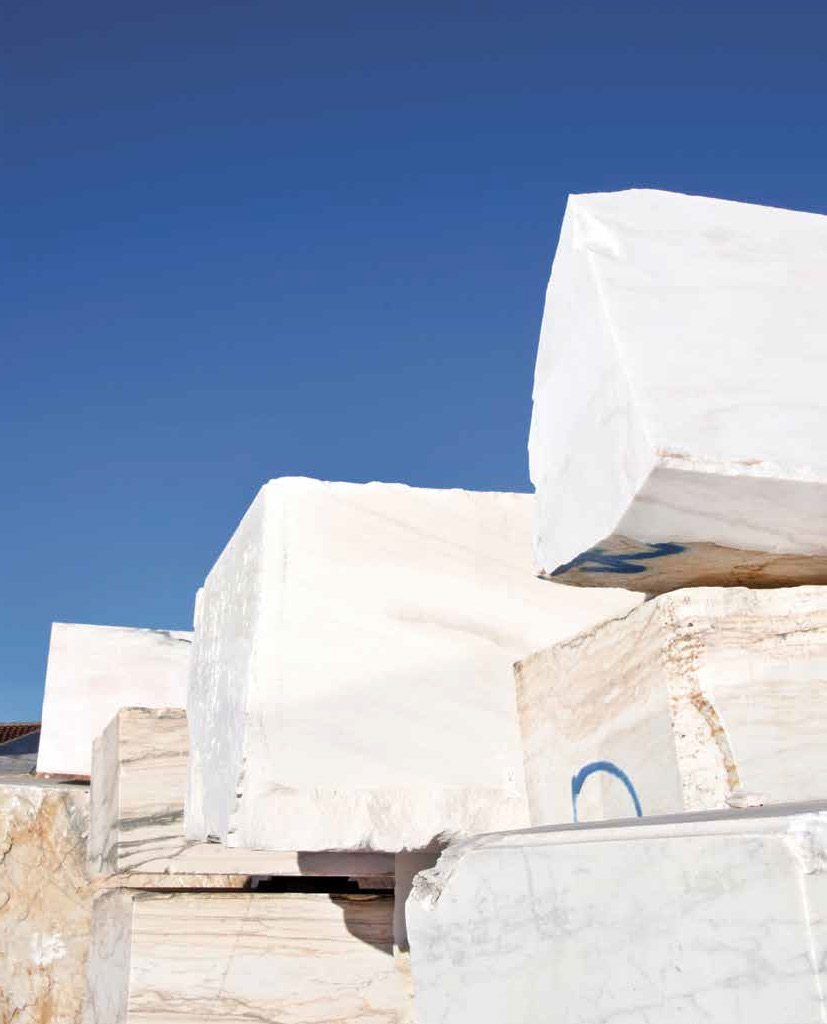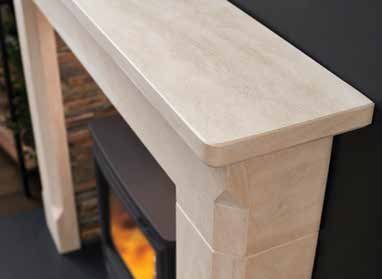 Quarried in the Western Mediterranean, this honed limestone has a rich sandy colour that provides a delicate warm feel.
Its background composition is magnified with unique small fossils and random sedimentary veining. A stone for those seeking a homely, cosy fireplace, Corinthian Stone is also available made to measure.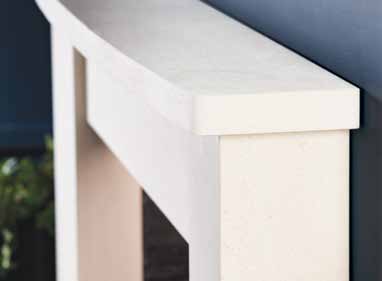 Sourced from the Eastern Mediterranean, our Aegean Limestone mantels are beautifully unique in character.
Each mantel has its own individual fossil formation, veining and colour so no two are the same and is handcrafted into a variety of contemporary and traditional designs.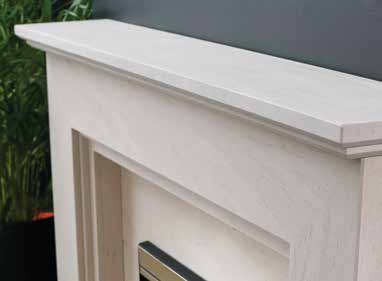 Formed over 50 million years ago and quarried in Portugal. The characteristic darker veins, intermingled with fossils of plants and animal life all add up to the beauty of this natural stone.
Blooms and whisps of fossilised leaves are not considered defects but part of the experience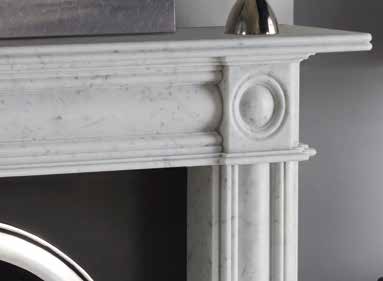 Quarried in the Italian city of Carrara, this stunning material has been used in the building of many of Rome's most remarkable buildings including the Pantheon. Every one of our Carrara Marble mantels has its own distinctive appearance with beautiful, fine grey and blue veining.
Please note our made to measure service is not available on this marble.
Our Timber mantels are available in two elegant styles, they're available made to measure to any size, enabling you to have complete control over the look and feel of your fireplace.
Both of our classic Timber mantels are handcrafted in Britain and take on a whole new personality when tailored to your exact requirements.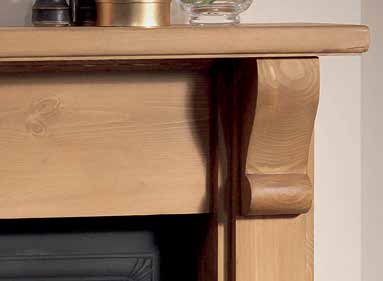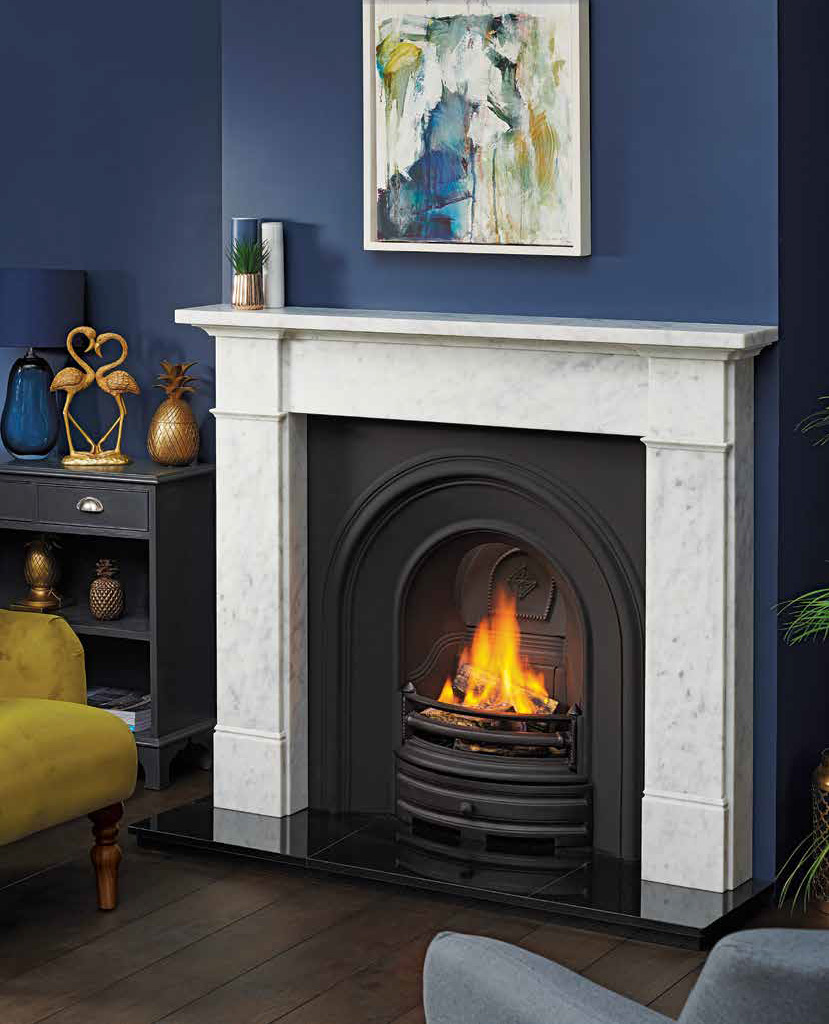 The Provident and Greencast ranges at Capital Fireplaces have been designed to deliver higher efficient gas and electric fires for more
traditional and ornate cast iron fireplaces.
Capital Fireplaces have sought from the design stage to combine the two critical components, the fire and the cast iron mantel, in unison to deliver aesthetically pleasing integrated appliances.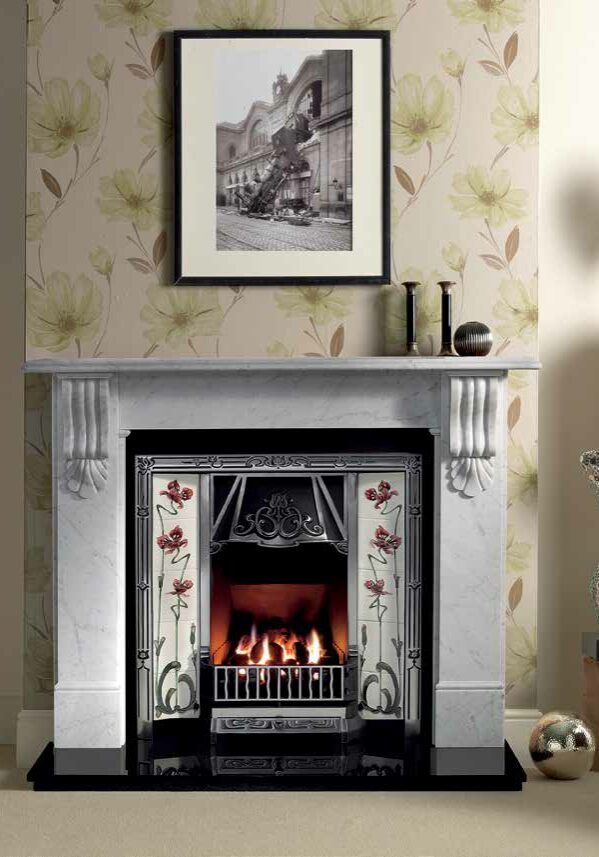 Heybridge Highlight with Jazz Burgundy and Ivory Tiles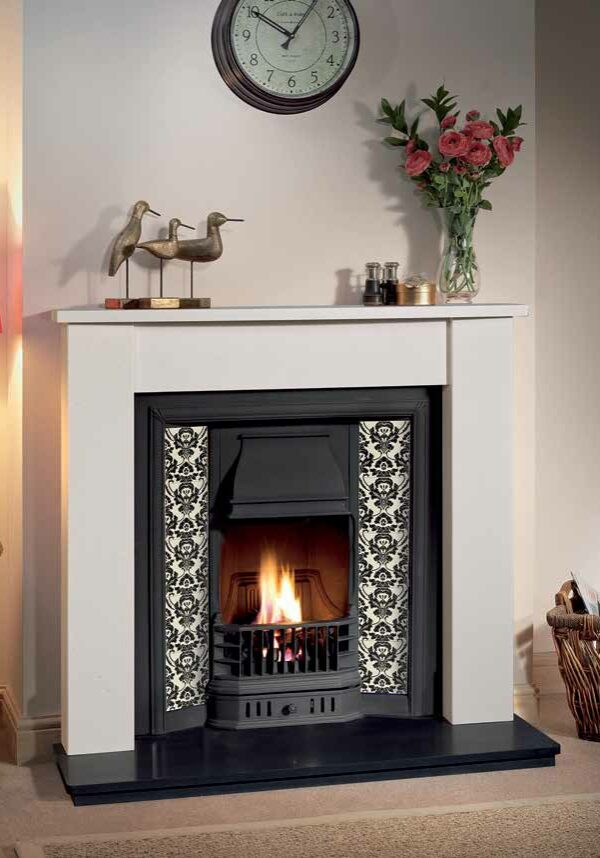 Burcott with Victorian Flock Black Tiles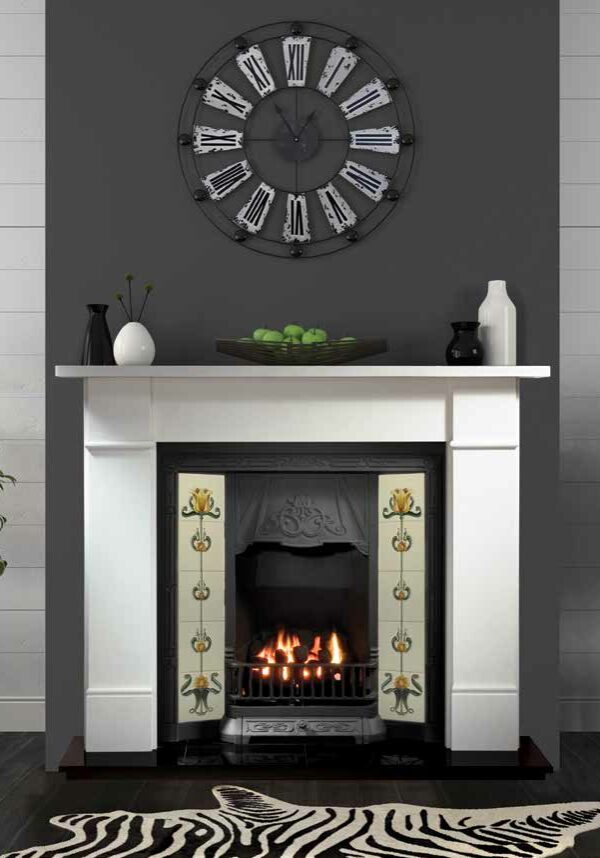 Heybridge Black with Tulip Yellow and Ivory Tiles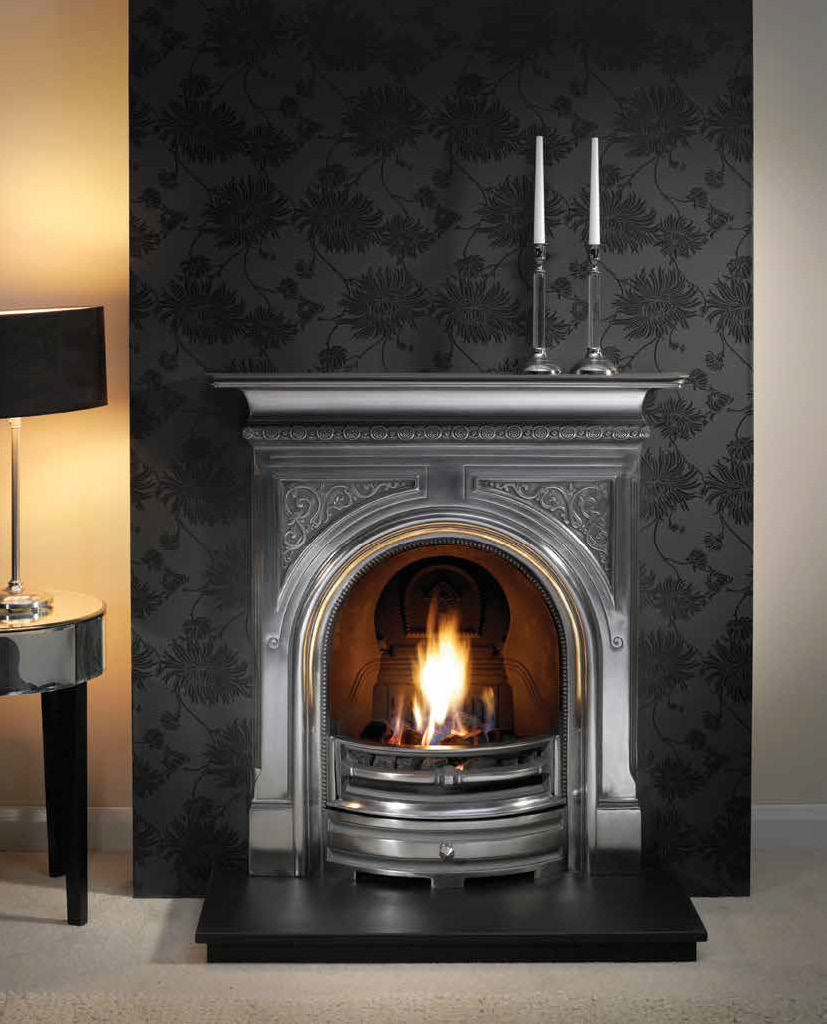 Cast Iron Combination Fireplaces
Combination cast iron fireplaces became fashionable during the Victorian Age. They were ideal for terraced houses and in particular bedrooms and smaller sized rooms which would not have been able to accommodate a mantel or fireplace suite.
Zigi's are exciting to be able to offer the latest cast iron combination fireplaces from Capital which we are sure you will agree are simply stunning.