The Melboune Wood Fireplace is shown in Light Oak Patina. The Patina finished is used to give the appearance of ageing and can be used on other finishes on request.
The Melbourne also features a specially designed Bianca Beige Marble Back Panel engineered to mimic the design of the Melbourne.
This panel comes with matching Boxed Flush Hearth and also shows the Trent HiLine HE Fire with Black Base Trim, Brass Outer Trim and Black/Brushed Brass Elan Fire Front.
Description
The Melbourne Wood Fireplace is made in Britain by expert craftsmen and designers and can be made to the exact measurements needed for our customers.
Not only can you choose the exact measurements, you can also decide on the final design you want. It is possible that you can choose features from different designs and combine them into one giving you a truly unique fireplace in your home.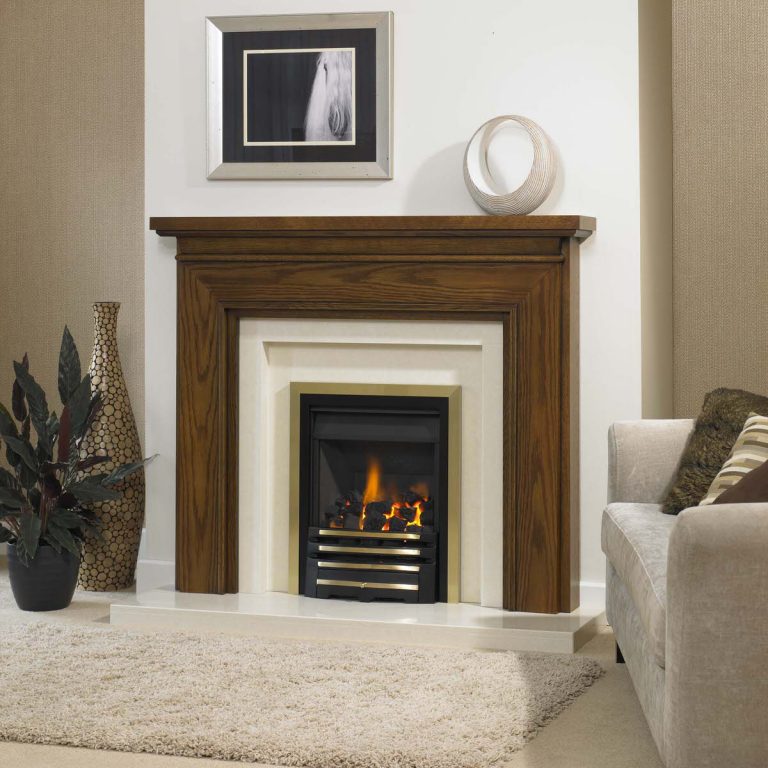 Colour Swatches
Using modern materials and the latest paint-mixing methods your new fireplace can be painted in any colour of your choice.
We offer a selection of wood surrounds and a full range of veneered woods for those looking for wood fireplace surrounds. With over 30 colour options to match the decor of your home including the more traditional hues of the Mahogany range to the contemporary tones of Maple and Beech.
For those looking for a stone effect, we supply a range of colours in the flo-stone range.  The flo-stone has a high-quality textured coating that has been specifically designed to mimic the stunning beauty of natural stone.
Melbourne Wood Fireplace Dimensions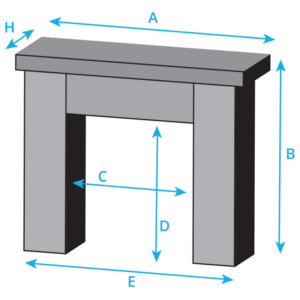 A = 52" / 1321mm
B = 43 ¾" / 1111mm
C = 32 ½" / 825mm
D = 32" / 813mm
E = 48 ½" / 1232mm
H = 7 ¾" / 198mm
Rebate = 1-3" / 25-76mm
Find Out More
All Trent fireplaces can be handmade to fit any size, just ask about our fitting service. Rebate measurement refers to the gap left on the inside of the fireplace surround where the marble may be fitted. All our fireplaces have an adjustable rebate as standard.
With a stunning range of products Trent Fireplaces only used highly skilled craftsmen in the design and manufacturing of their wood fireplace surrounds.
For further information on the range of Trent fires and fireplaces, please feel free to contact us or visit one of our showrooms in Essex, Cambridgeshire, Suffolk and Norfolk and talk to our friendly and experienced staff who will be more than happy to answer any questions you may have.