The Studio range of cassette and freestanding fires has been designed to create a striking feature in your living space with their enticing widescreen flame visuals complemented by an extensive array of frames and styling options. The pure, simplistic form of the Studio belies the high levels of engineering and technical innovation that keeps this range not only at the forefront of twenty-first-century fire design but also exceptional heating performance and controllability.
Choose Your Fire Size
Stovax's dedication to the development of premium quality stoves and fireplaces over the past 34 years has helped to make it one of Europe's leading specialist manufacturers. Now the company's expertise has brought wood burning technology to the very pinnacle of performance and design with the Studio range of fireplaces.
Riva Studio 500 Wood Burning Inset Fire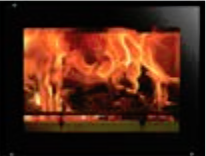 Riva Studio 500 Cassette Woodburning Stove is a visually striking inset stove with extensive frame options to suit all homes.
The Stovax Riva Studio 500 burns logs with outstanding efficiency and with the latest clean burn combustion system. Heats a small to medium-sized room well with a heat out put range of 1.7 – 7kw nominal 5kw
Riva Studio 1 Wood Burning Inset Fire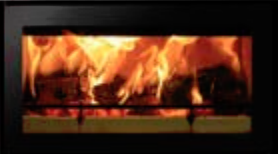 The Studio 1 is available as either an Open Fronted or Glass Fronted model. Open Fronted models are conventional flue and have a choice of white stone or glass bead fuel beds.
Glass Fronted models are offered as both conventional and balanced flue versions, with the choice of three fuel-effects including Log-effect, Pebble & Stone or Driftwood-effect. The Open Fronted produces a heat output of up to 1.72kW whilst the Glass Fronted offers up to 5.20kW and greatly increased efficiency.
Riva Studio 2 Wood Burning Inset Fire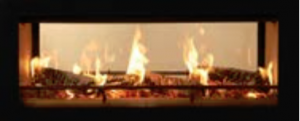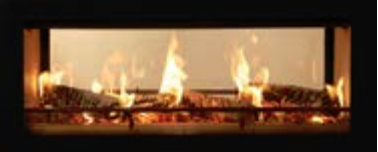 Available as an Open Fronted or Glass Fronted model, the Studio 2 fires, being wider, produce greater heat outputs than those generated by the Studio 1. Up to 2.30kW is offered by the Open Fronted models whilst the Glass Fronted fires produce up to 6.97kW.
Glass Fronted models come with the choice of three realistic fuel-effects and are available as both conventional and balanced flue versions. Open Fronted versions are conventional flue, and are available in white stone or glass bead fuel beds.
Riva Studio 3 Wood Burning Inset Fire


The largest in the range, the Studio 3 is available in both Open Fronted or Glass Frontedversions. The Open Fronted produces a heat output of up to 3.40kW and is available with either a white stone fuel bed or a glass bead fuel bed.
The Studio 3 Glass Fronted version is available with three realistic fuel bed choices: Log-effect, Pebble & Stone or the weathered Driftwood-effect. Due to its impressive 7.30kW heat output, the Glass Fronted is for balanced flue installations only, making it perfect for homes that do not have a chimney!
Riva Studio Duplex Wood Burning Inset Fire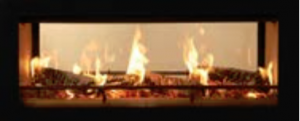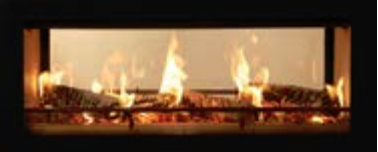 A double-sided high-efficiency fire which can be enjoyed from two rooms at once!
This Glass Fronted fire is available with a realistic log fuel bed and produces up to 7.9kW of heat output. Please see the Studio Duplex page for further details on this eye-catching balanced flue fire
Choose Your Own Style
To own a Studio is to make a design statement that will become a heart-warming focal point to your home. There are several different styling options, from the simple Edge or Cool Wall kits to the larger format Steel, Glass or Ceramic frames, there are even several Freestanding and Hearth mounted models to ensure that there will be a Studio just right for you.
All Studio models are designed for wood burning only. Wood is an environmentally friendly fuel; when burnt, the carbon dioxide released into the atmosphere is approximately the same as that absorbed by the tree during growth.
It is also a renewable resource, particularly when derived from plantations and cultivated woodland. For optimum results, we recommend logs should be seasoned for 2 years or more to achieve a moisture content below 20%. This will not only give a higher output than of freshly felled timber but will also help to avoid a build-up of tar in your flue.
Furthermore, if you can obtain hardwood logs this is better still, as they will have a greatly increased calorific value compared to soft woods.
---
Visualise Your Fire
The Stovax Riva Studio Visualiser gives you a visual concept of having a real woodburning fire in your room. Convenient and easy to use, the Riva Studio Visualiser enables you to view all fires in the Stovax contemporary Riva Studio range against a photo of your room or within a pre-loaded professional set to give you plenty of ideas and inspiration!
From a small hole-in-the-wall fire to a large freestanding appliance, the Stovax Riva Studio Visualiser helps you choose the right fire and frame option, as well as the perfect location in your room. You can take your own room photos from within the application or use our pre-loaded inspirational room designs onto which you can view and select your favourite Riva Studio wood burning fire from the range. When you're happy with the result, simply capture the final image, which automatically saves to the photo library or your Camera Roll on your device.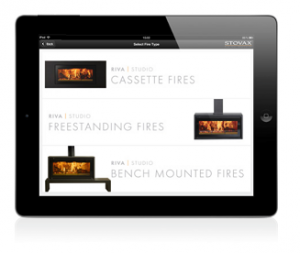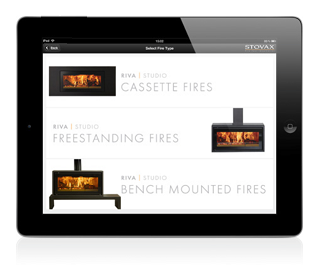 Just Swipe To See Your Ideal Fireplace
take a photo with the built-in camera on your device;
use any of the pre-loaded inspirational room sets;
use any existing photo in your photo library;
choose from the very latest wood burning Riva Studio Cassette, Freestanding and Bench Mounted Fires;
swipe screen to easily change your fire choice;

 pinch, zoom & drag your chosen fire to approximately scale the fire to the room

save the completed design to your photo library or Camera Roll
---
Studio Fires Key Features:
High efficiency up to 80%
Wood burning
Boost setting for lighting and re-fueling
Removable steel and TCL baffles
TCL firebox lining
Radiant heat and convected heat
External air facility
Optional fan-assisted convection system
Optional warm air ducting system
Top flue connection – Internal Ø – 153mm (6")
Suitable for Smoke Control Areas*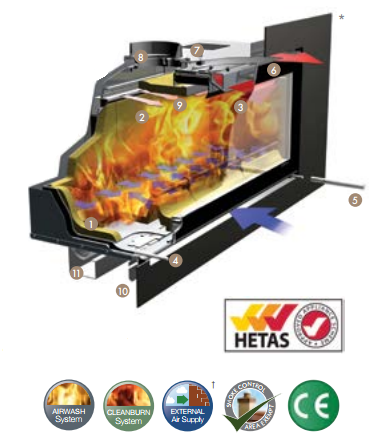 ---
Hetas Accredited & CE Marked

All Studio fires in this brochure are CE Marked.  This means they have been independently tested to exacting European standard for both heating efficiency, emissions and safety. They have also been accredited by HETAS, the UK's official body recognised by the government to approve solid fuel domestic heating appliances.
Smoke Control Area Approved

Many town and city homes are located in Smoke Control Areas as designated by the Clean Air Act 1993. The Studio 500, 1 & 2 Cassettes and Freestanding fires have been approved for the burning of wood in these areas.  The Studio 2 Duplex has also been approved when fitted with the appropriate Smoke Control kit, meaning that even the urbanest of homes can benefit from this environmentally friendly fuel source.
Five Year Warranty

When you choose a Studio fire, quality and technology are assured. Accordingly, when you purchase your new fire from a Stovax Expert Retailer they will provide you with a Two Year Warranty.
This can then be extended to a Five Year Warranty provided your Studio fire is registered with Stovax.
Studio Verve Dimensions
Fire Size
Nominal Heat
Output & Range
Max log lengths
Frame dimensions mm (wxhxd)
Energy Efficiency Class
Studio 500
5.0kW (1.7-7kW)
250mm (10")
1010 x 567 x 40
A
Studio 1
5.0kW (1.7-7kW)
300mm (12")
1203 x 567 x 48
A
Studio 2
8.0kW (2.8-11kW)
400mm (16")
1440 x 622 x 59
A
Studio 2 Duplex
9.0kW (3.5-12kW)
400mm (16")
1440 x 622 x 59
A
Studio 3
11.0kW (3.8-16kW)
500mm (20")
1927 x 674 x 83
A
If you would like to find out more about the Riva studio range or any other fire we have at Zigis please contact us today or call into one of our fire shops in Essex and Suffolk and talk to one of our friendly and knowledgeable sales team who will be happy to answer any questions you have about buying the right fire for you and your home.